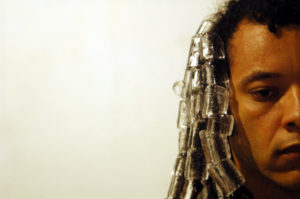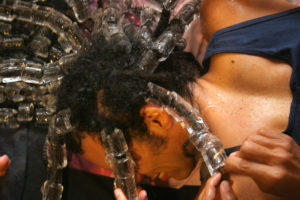 Complicity
By Clarissa Diniz
If the melting pot of culture has been noted and discussed for a while now, in his performance Crystallus Capillus, João Manoel Feliciano does not deny this phenomenon. For hundreds of minutes, the artist awaits, in slow silence, the melting of the blocks of ice that surround his long locks of hair, creating metaphors of the uninterrupted process of the transience of life, and adding his poetic contribution to the world-wide discussion of this.
His living body heats the ice, which then cools down, revealing a relationship of interdependence. In the interaction established between the artist and the blocks of ice and in spite of his signs of exhaustion that affect it – trembling, tiredness, numbness –, what becomes apparent is their inter-connectedness amidst the chaos. With apparent spontaneity, human and natural forms, normally oblivious to each other, endure slow processes, which, despite limited impact, go on investing in the continuity of small metamorphoses – uninterrupted for relatively long periods.
For an hour and a half, even the hardest parts of ice melt and slip away, moved by the complicity that emerges from this set-up, the truth of which brings warmth to all spectators, left dumbstruck by the potential of a silent and languid chaos.
photographic record: Hélder Tavares and Mateus Sá